Nothing is better than a spa day. Whether it's at home or you treat yourself to a professional spa day having someone scrub and rub your body to it's freshest glow is always a great way to celebrate your personal day of beauty. With winter fast approaching we now enter the world of dry air, dry skin, and constant discomfort. One easy way to rid yourself of the dry, flaky, itchy skin is the good ole manual labor of the body scrub. It's already started for me. Below we count down the 5 best body scrubs.
5. Herbivore – Coco Rose Coconut Oil ($38) body polish and Kopari Coconut Crush Scrub ($36)
It's a twofer. Its really just because it's largely the same thing. Both are sugar scrubs that use coconut oil as its primary moisture delivery system.
Kopari Coconut Crush Scrub: Cocos Nucifera (ORGANIC Coconut) Oil, Sucrose, Isopropyl Palmitate, Beeswax, Cocos Nucifera Shell Powder, Silica, Hydrogenated Castor Oil, Caprylyl/Capryl Glucoside, Fragrance (Parfum), Tocopherol, Butyrospermum Parkii (Shea Butter), Aloe Barbadensis (Aloe Vera) Leaf Extract Oil
Herbivore Coco Rose Coconut Oil Body Polish: Sucrose (Sugar), Cocos Nucifera (Organic Virgin Coconut) Oil, Capric Triglycerides, Cetearyl Olivate, Sorbitan Olivate, Butyrospermum Parkii (Shea) Butter, Limnanthes alba (Meadowfoam) Seed Oil, Rosa damascena (Moroccan Rose) Absolute, Rose Clay.
I do love these, they smell great. The sugar doesn't just disappear the second you start to scrub. The oil does a great job of sticking around as I finish rinsing everything off. Do wear long pants when you go to bed. I always wear a pair of silk-like pajama pants to make sure everything stays near the skin instead of smeared all over my bed. If I had to choose one to treat myself to it's the Herbivore Body Polish. I'm on a rose kick for some reason, could it be that we just got married on the 3rd????? Yes, yes it is.
4. Coffee grounds + oil (price varies on what you have in your pantry)
If you're a coffee drinker this one is super easy for you. I use the spent coffee grounds, no need to go out and buy some. If you do go and buy some use espresso grounds. It's finer and just does a better job. Add a bit of oil to bring it all together and start to scrubbing away. Cost can be as little as the oil you use since you're repurposing those spent coffee grounds or if you buy new coffee it could cost as much as $10.00 for a pound of grounds plus the oil of your choice. Use coconut or extra virgin olive oil. I don't recommend vegetable oil, ever, for body scrubs. Avacado oil would be nice too as long as it isn't infused with chilis. That would sting. Make sure you have the tap running while using this. Lots of spent coffee grounds plus plumbing are not always a good combination.
If you choose to purchase a coffee based scrub look towards Frank Body Coffee Scrubs. They come in a variety of sizes and different oils like coconut and sweet almond oil. At 18.95 for the Coconut Coffee Scrub to 16.95 for the Original Coffee Scrub with sweet almond oil you can easily get 6-8 full body scrubs out of one pouch. They also have a smaller size that's $9.95 that will give you 2 or 3 full body scrubs. Use after washing and shaving, you want those oils to act as a moisturizer and lock in that hydration. The oils will also clog your razer.
3. L'Occitane Verbena Body Salt Scrub ($34)
Sorry for another expensive scrub I promise it's the last one, but the smell. OH, the smell.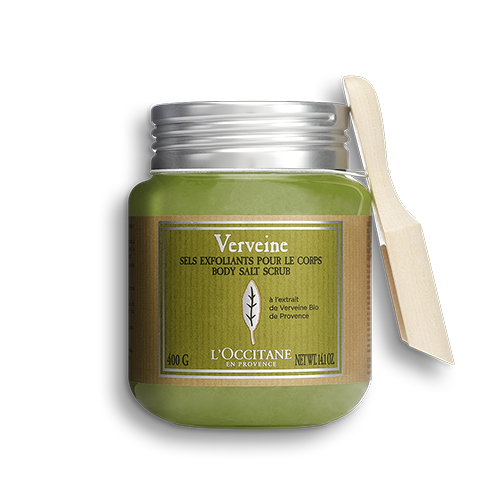 I have a weakness for Verbena. Even the lemon verbena at the body shop that smells too strong and lingers far too long is heaven to my nose, granted from 20 feet away.
Sodium Chloride**, Vitis Vinifera (Grape) Seed Oil**, Prunus Armeniaca (Apricot) Kernel Oil**, Prunus Amygdalus Dulcis (Sweet Almond) Oil**, Helianthus Annuus (Sunflower) Seed Oil**, Laureth-4, Lippia Citriodora Leaf Extract*, Rosmarinus Officinalis (Rosemary) Leaf Extract**, Tocopherol**, Arfum/Fragrance, Citral, Limonene, Citronellol, Linalool, Geraniol, Benzyl Benzoate, Ci 61565/Green 6.
Sodium chloride is also known as table salt. But why the dye. It's not needed. Just let the salt scrub be. It's literally the only ingredient I have a problem within this entire list.
2. Brown Sugar plus Olive oil (free if its already in your pantry)
You just can't top the simplicity of brown sugar and olive oil or coconut oil if you'd rather use that. If you haven't noticed, pretty much all body scrubs use sugar or salt as it's exfoliant and oil as the moisturizer. Although bad for our face, our bodies don't have a problem with the abrasiveness of sugar or salt. The biggest plus, it's amazingly cheap. Add a handful of brown sugar to a mug and mix in just enough oil to make the sugar look moist. The oil doesn't need to be pooling everywhere. Take it to the shower and scrub scrub scrub away. Only con is sometimes you do end up with an oil ring if you do this in the bath and if in the shower the floor can get a bit slick so be careful.
1. Japanese/Korean/Asian Exfoliating Body Mitt
If you're Japanese/Korean/Asian you might have nightmares about these mitts. Introduced to me by a Korean friend, these green mitts are believed by many a mother to rub away any freckle, mole, etc. and leave your body softer than a babies butt. They don't remove blemishes but they do leave your skin softer than a babies butt. Soak in a bathtub that's as warm as physically tolerable or use at the end of a hot shower. Lift that leg above the water and let the excess water roll off and start to rub rub rub rub rub. You can rub to the blood vessels to beware. Pro tip: keep your skin wet but the mitt damp. It helps the skin roll off. It literally forms rolls and comes off. The first time I used one of these the bottom of my shower was coated in dead skin. It was disgusting. As it gets old and disgusting you can actually throw these in the wash. And at less than $10 a piece, it is not going to break anyone's bank.
And after you get done using this mitt you will need a heavy body moisturizer. I'm talking lanolin, body butters like mango, shea, or coconut butter. Heavy stuff. Your skin will thank you. If you have acne along your check and back like I do you probably want to lightly go over those areas with this mitt at first. Otherwise, you an irritate any acne you currently have. I go over my chest more like it was a washcloth and don't dig in and scrub. but arms, legs, belly, and butt all get a good rub. Also, DO NOT USE THIS MITT ON YOUR FACE. It's far too rough and you'll just tear your skin away and break through that THE Moisture Barrier we've already discussed.
Final Thoughts: In general, I use brown sugar plus oil and my mitt. I always have coffee, brown sugar and oil in my house and I always have my mitt in the bathroom. I've used the mitt for years. If you have an Asian market I'd be willing to bet they have them there whether they're a mitt or a cloth. That's where I buy mine. The only con I have with commercially available body scrubs is that they come in pots. I always get water in mine which is why I started to make my own since I can make up enough for a spa day event. L'occitane does have an almond body scrub in a tube that has good reviews but I haven't used and I'm not going to suggest something I've never used.
Let me know below if you agree with the list or if you have other scrubs that you love or even those you hate. I've got a few on that list too I could probably do as well. Apple pie scrubs are the worst. I always have to go and fix a pie and eat it after I smell anything related to apple pie (candles, scrubs, perfume, the actual pie, etc.).